Dacon China is a manufacturer of wheat/barley grass powder,royal jelly,silica gel desiccant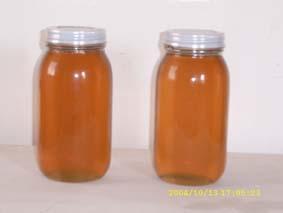 Put the mouse on above image to view full picture
Product Description
Organic Acacia Honey:
We can supply organic vitex honey, organic Acacia honey and organic fresh royal jelly, we can pack the goods according to your request.
Our other honey products as follows:
vitex Honey
LA Honey
White honey
Bee honey in iron drum(290kg)
Bee honey in jar(125g, 500g, 1000g, etc. )
Bee honey in plastic drum(10kg, 15kg, 16kg, etc. )
As a natural food rich in nutrition and sweet in flavor, besides water, honey
mainly contains sugar, vitamins, mineral substances, amino acid and ferment.
Specifications:
1) Moisture: <18%
2) Sugar: <5%
3) Reducing sugar: >65%
Welcome to inquiry us at any time.
You may also be interested in the following product(s)

Company Name: Qingdao Dacon Trading Co., Ltd
Registered Address:No. 519, Workshop On 5/F, 1 Hancheng Rd., Free Trade Zone, Qingdao, Shandong, China (Mainland)
Legal Representative/CEO: Ms. Shuming Kang
Registration No.: 91370220747213098M

86-532-80865267
86-532-80865298
Mr. Weishun Yang
Tags