Dacon China is a manufacturer of wheat/barley grass powder,royal jelly,silica gel desiccant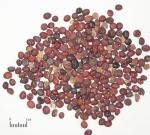 Put the mouse on above image to view full picture
Product Description
Properties:
Product Name; Spine date seed extract, Ziziphus jujuba extract, Jujuboside
Latin Name: Ziziphus jujuba Mill. var.
Appearance: Brown fine powder
Molecular Formula: C52H84O21
Molecular Weight: 1045.21
CAS No.: 55466-05-2
Specification: Jujuboside 2%
Ratio extract power 5:1 10: 20:1
Packing: Packed in paper-drums and two plastic-bags inside or as per your request.
Net weight: 25kg/drum
Stored in a cool and dry well-closed container, keep away from moisture and strong light/heat.
You may also be interested in the following product(s)

Company Name: Qingdao Dacon Trading Co., Ltd
Registered Address:No. 519, Workshop On 5/F, 1 Hancheng Rd., Free Trade Zone, Qingdao, Shandong, China (Mainland)
Legal Representative/CEO: Ms. Shuming Kang
Registration No.: 91370220747213098M

86-532-80865267
86-532-80865298
Mr. Weishun Yang
Tags