Dacon China is a manufacturer of wheat/barley grass powder,royal jelly,silica gel desiccant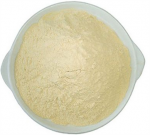 Put the mouse on above image to view full picture
Product Description
Properties:
Product Name: Soybean extract, Soybean isoflavones
Latin Name: Glycine Max(Linn.) Merr.
Appearance: Yellow to off-white powder
CAS No.: 574-12-9
Molecular Formula: C19H12O8
Molecular Weight: 368.29
Specification: Isoflavones: 20%,40%
Packing: Packed in paper-drums and two plastic-bags inside or as per your request.
Net weight: 25kg/drum
Stored in a cool and dry well-closed container, keep away from moisture and strong light/heat.
Function:
1. It provides beneficial effects for the prevention and treatment of brease,colon and prostate cancers;
2. It is also known as phytoestrogens,signifying their mild estrogenic activity;
3. It can reduce the bioavailability of sex hormones that may stimulate tumor growth capacity in both men and women;
4. It is beneficial in preventing osteoporosis and autoimmune conditions;
5. Special soy isoflavones supplements are also ava If you are interested in our products, please feel free to tell us at any time.ilable in capsules and tablets. Some provide added digestive enzymes.
You may also be interested in the following product(s)

Company Name: Qingdao Dacon Trading Co., Ltd
Registered Address:No. 519, Workshop On 5/F, 1 Hancheng Rd., Free Trade Zone, Qingdao, Shandong, China (Mainland)
Legal Representative/CEO: Ms. Shuming Kang
Registration No.: 91370220747213098M

86-532-80865267
86-532-80865298
Mr. Weishun Yang
Tags