Dacon China is a manufacturer of wheat/barley grass powder,royal jelly,silica gel desiccant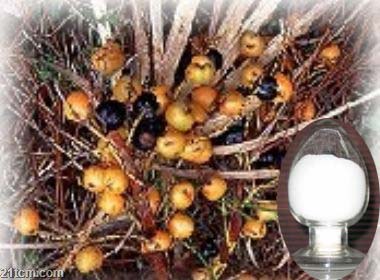 Put the mouse on above image to view full picture
Product Description
Saw Palmetto Extract:
We have our own factory, which is professionally manufacturing various kinds of herbs,herbal granule, slice, powder and herbal extract etc herbal products.
Properties:
Product Name: Saw palmetto extract
Latin Name: Serenoa Repens (bartram) small
Part ot used: Fruit of Saw palmetto
Appearance: White fine powder
Specification: Total Fatty Acid: 25%,45%
Packing: Packed in paper-drums and two plastic-bags inside.
Net weight: 25kg/drum
Stored in a cool and dry well-closed container, keep away from moisture and strong light/heat.
Description:
Growth in North and South America are usually the hot climate, its fruit for medicinal. Saw Palmetto Oil is extracted with supercritical method from the fruit that contains oleic acid, linoleic acid, such as saturated and unsaturated fatty acids, using a technology package, made of white powder products, to ensure the stability of active ingredients. Saw Palmetto Extract is effective in the treatment of natural prostatic hypertrophy.
Function:
1. Inhibit prostate hyperplasia
2. Antibacterial activity
3. Contraction of vascular
4. Strengthen muscles
5. Anti-mucosal
6. Diuretic.
Usage:
It have long held a reputation as sexual stimulants and aphrodisiacs. The largest use today is as a supplement for reducing enlarged prostate glands, treating urinary tract problems and for improving body strength.
Diuretic, sedative, tonic. It is milder and less stimulant than cubeb or copaiba, or even oil of sandalwood. Like these, it has the power of affecting the respiratory mucous membrane, and is used for many complaints which are accompanied by chronic catarrh. It has been claimed that sabal is capable of increasing the nutrition of the testicles and mammae in functional atony of these organs. It probably acts by reducing catarrhal irritation and a relaxed condition of bladder and urethra. It is a tissue builder.
You may also be interested in the following product(s)

Company Name: Qingdao Dacon Trading Co., Ltd
Registered Address:No. 519, Workshop On 5/F, 1 Hancheng Rd., Free Trade Zone, Qingdao, Shandong, China (Mainland)
Legal Representative/CEO: Ms. Shuming Kang
Registration No.: 91370220747213098M

86-532-80865267
86-532-80865298
Mr. Weishun Yang
Tags