Dacon China is a manufacturer of wheat/barley grass powder,royal jelly,silica gel desiccant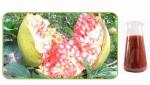 Put the mouse on above image to view full picture
Product Description
Properties:
Product Name: Pomegranate seed extract, pomegranate skin extract, ellagic acid
Latin Name: Punica granatum L

Appearance: Grey brown fine powder
Specification: Polyphenols: 10%-40%
Ellagic acid: 10%-40%
Punicalagin: 10%-40%
CAS No.: 476-66-4
Molecular Fomula: C14H6O8
Molecular Weight: 302.20
Packing: Packed in paper-drums and two plastic-bags inside or as per your request.
Net Weight: 25kg/drum
Stored in a cool and dry well-closed container, keep away from moisture and strong light/heat.
Description:
Ellagic Acid is a phenolic compound that has become a known as a potent anti-carcinogenic/anti-mutagenic compound. It also has anti-bacterial and anti-viral properties.
Ellagic acid itself is not thought to be naturally present in plants. Instead, polymers of gallic acid and hexahydroxydipenoyl (HHDP) are linked to glucose centers to form the class of compounds known as ellagitannins. When two gallic acid groups become linked side-by-side within a tannin molecule and HHDP group is formed.
If you are interested in our products, please feel free to tell us at any time.
Function:
1. Anti-cancer and anti-mutation. Pomergranate extract has been proved to be an effective anti-carcinogen upon carcinoma of rectum and colon, esophageal carcinoma, liver cancer, lung cancer, carcinoma of tongue and skin.
2. Restrain to human immunodeficiency virus(HIV) and many kinds of microbe and virus.
3. Anti-oxidant, coagulant, descenting blood pressure and sedation.
4. Treat kinds of symptoms caused by high blood sugar, hypertension.
5. Resist to atherosclerosis and tumour.
6. Resist to anti-oxidance, senescence inhibition and skin whitening.
You may also be interested in the following product(s)

Company Name: Qingdao Dacon Trading Co., Ltd
Registered Address:No. 519, Workshop On 5/F, 1 Hancheng Rd., Free Trade Zone, Qingdao, Shandong, China (Mainland)
Legal Representative/CEO: Ms. Shuming Kang
Registration No.: 91370220747213098M

86-532-80865267
86-532-80865298
Mr. Weishun Yang
Tags