Dacon China is a manufacturer of wheat/barley grass powder,royal jelly,silica gel desiccant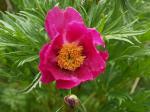 Put the mouse on above image to view full picture
Product Description
Properties:
Product Name: Tree Peony Root-bark extract, Cortex Moutan extract, Paeonol
Latin Name: Paeonia Suffruticosa
Appearance: White or light yellow powder
Peony Root-bark extract:;4:1 10:1 20:1
Specification: Paeonol: 99%
Packing: Packed in paper-drums and two plastic-bags inside or as per your request.
Net weight: 25kg/drum
Stored in a cool and dry well-closed container, keep away from moisture and strong light/heat.
Function:
Dan phenolic has demulcent, anti-inflammatory, antipyretic and inhibition of allergy. The tail, acetic acid, physical or chemical factors caused pain, Dan phenolic significant analgesic action. By carrageenin, egg, formaldehyde, histamine and serotonin, or peptide, xylene and endotoxin inflammation caused by such, Dan hydroxybenzene has obvious inhibition. To JunMiao typhoid vaccine, sanlian caused temperature, Dan phenolic has obvious antipyretic actions. For II, III, IV, allergy has inhibitory effect.
You may also be interested in the following product(s)

Company Name: Qingdao Dacon Trading Co., Ltd
Registered Address:No. 519, Workshop On 5/F, 1 Hancheng Rd., Free Trade Zone, Qingdao, Shandong, China (Mainland)
Legal Representative/CEO: Ms. Shuming Kang
Registration No.: 91370220747213098M

86-532-80865267
86-532-80865298
Mr. Weishun Yang
Tags