Dacon China is a manufacturer of wheat/barley grass powder,royal jelly,silica gel desiccant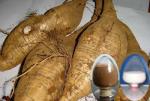 Put the mouse on above image to view full picture
Product Description
Properties:
Product Name: Pueraria extract, Kudzu Root Extract, Pueraria isoflavone, Puerarin
Latin Name: Pueraria lobata (Willd.) Ohwi
Appearance: Brown yellow to white fine powder
Specification: 4:1 10:1 Pueraria Isoflavones: 40%,80%,98%
Puerarin: 30%,40%,60%,80%,98%
Packing: Packed in paper-drums and two plastic-bags inside or as per your request.
Net weight: 25kg/drum
Stored in a cool and dry well-closed container, keep away from moisture and strong light/heat.
Function:
1. Dilating blood vessels, increasing coronary blood flow, antithrombotic effect, inhibiting platelet aggregation, reducing blood viscosity and promoting blood micro-cycle;
2. Reducing myocardial oxygen consumption, strengthening myocardial contraction force and protecting myocardial cell;
3. Enhancing immunity and inhibiting cancer cell;
4. Treating sudden deafness of each group;
5. Reducing the risk of cardiovascular diseases.
Application:
1. Applied in food field, puraria isoflavones can be used in foods and health products, to lower blood pressure and blood-fat.
2. Applied in pharmaceutical field, puraria isoflavones is widely used in biopharmaceuticals and API of cardiovascular system agents in China. As a kind of Chinese medicine injection, puerarin is a common drug for heart and cerebrovascular disease.
3. Applied in cosmetics field, the phytoestrogen effect of puerarin can relieve symptom caused by decrease in estrogen level and aging, such as mastoptosis, crinkle, decrease in skin vitality and leukotrichia. Hence, it is frequently used in breast cream, eye cream and skin cream.
You may also be interested in the following product(s)

Company Name: Qingdao Dacon Trading Co., Ltd
Registered Address:No. 519, Workshop On 5/F, 1 Hancheng Rd., Free Trade Zone, Qingdao, Shandong, China (Mainland)
Legal Representative/CEO: Ms. Shuming Kang
Registration No.: 91370220747213098M

86-532-80865267
86-532-80865298
Mr. Weishun Yang
Tags