Dacon China is a manufacturer of wheat/barley grass powder,royal jelly,silica gel desiccant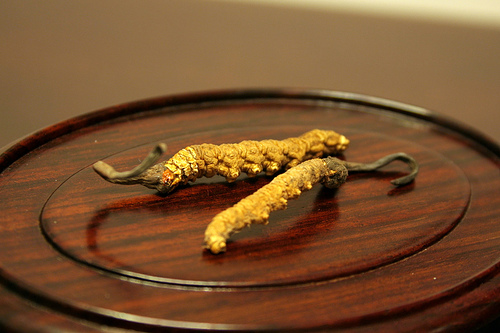 Put the mouse on above image to view full picture
Product Description
Cordyceps sinensis extract:
We have our own factory, which is professionally manufacturing various kinds of herbs, herbal granule, slice, powder and herbal extract etc herbal products.
Properties:
Product Name: Cordyceps sinensis extract, cordyceps polysaccharides
Latin name: Cordyceps sinensis
Appearance: Brown yellow fine powder
Specification: Polysaccharides: 10%,20%,30%,40%
Packing: Packed in paper-drums and two plastic-bags inside or as per your requirement.
Net weight: 25kg/drum
Stored in a cool and dry well-closed container, keep away from moisture and strong light/heat.
Function:
1. Cordyceps sinensis is a powerful life enhancing tonic and an extremely effective and unique herb able to benefit many body systems.
2. Generally,cordyceps helps restore normal functioning of various parts of the body,it helps stimulate the immune system,benefits circulatory system and promotes energy,vitality and longevity. It develops strong anti-aging power and is a good anti-oxydant.
3. Recent observations have shown,that cordyceps can improving the circulation,it helps to regulate blood pressure and strengthen the heart muscle. As a working lung tonic,cordyceps is able to strengthen respiratory power in those who need extra exergy to perform physica exercise. It is also useful for people who suffer from deficiency of lung power.
You may also be interested in the following product(s)

Company Name: Qingdao Dacon Trading Co., Ltd
Registered Address:No. 519, Workshop On 5/F, 1 Hancheng Rd., Free Trade Zone, Qingdao, Shandong, China (Mainland)
Legal Representative/CEO: Ms. Shuming Kang
Registration No.: 91370220747213098M

86-532-80865267
86-532-80865298
Mr. Weishun Yang
Tags